Municipal Services
GARBAGE & RECYCLING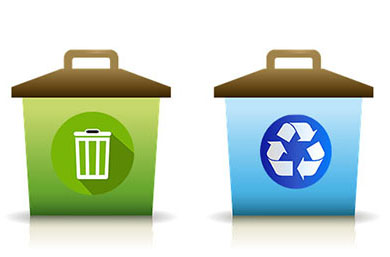 Please have all bagged garbage inside the GREEN bin and placed in the front of your residence on the curb no later than 7:00 a.m.!! NO EXCEPTIONS!
Recycling Program Guidelines:
Please have your recycling at the curbside by 7:00 a.m. on your pick-up day. Your recycling will be collected between 7:00 a.m. and 7:00 p.m.

Your recycling cart should be placed with the arrows (on the lid) facing the street and should be accessible to the recycling truck driver. The cart should be clear of all objects.

Do not overfill the cart. Leave the lid closed.

Bins are to be moved back once recyclables have been collected.

All recyclables must be clean. Please remove lids and caps from bottles, jars and milk jugs.

No need to bag your recyclables - everything can be placed loose in your cart.

What can you recycle?
Paper, tin, glass and plastic

All paper and cardboard - please bag shredded paper

All beverage containers

Tin cans and other household metal including aluminum pie plates and foil

Milk jugs and cartons

Tetra Pak containers for beverages and soup

All plastic bottles and containers labelled 1-7 (any colour). Plastics can be identified by a number in the triangle on the bottom of most containers

Items that are NOT accepted
styrofoam including egg cartons and meat trays, plastic bags/film (even if numbered), unnumbered plastic packaging, food wrap, wax paper, chip bags, cookie bag liners, candy bar wrappers, cereal or cracker box liners, unclassified plastics like toys, hangers and plastic cutlery.

Light bulbs, ceramics, window or mirror glass, tempered glass (like Pyrex) and used motor oil containers or batteries.

If you have any questions please call the Town of Fort Qu'Appelle at 306-332-5266.